Wines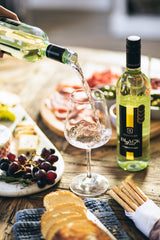 Good food deserves a classy bottle of wine or two to drink it with. We have a wide selection, including the best from the Old and New World, sparkling wines for a celebration and dessert wines fit for a special occasion.
Fresh and mildly fruity aroma, reminiscent of delicate blossoms and apples. Lively on the palate ...
- Delle Venezie DOCCrisp, clean, fruity with just a touch of sweetness on the palate.
Light body, unoaked, classic north Italian house red.Veneto DOC, Grape - Glera. Light persistent ...