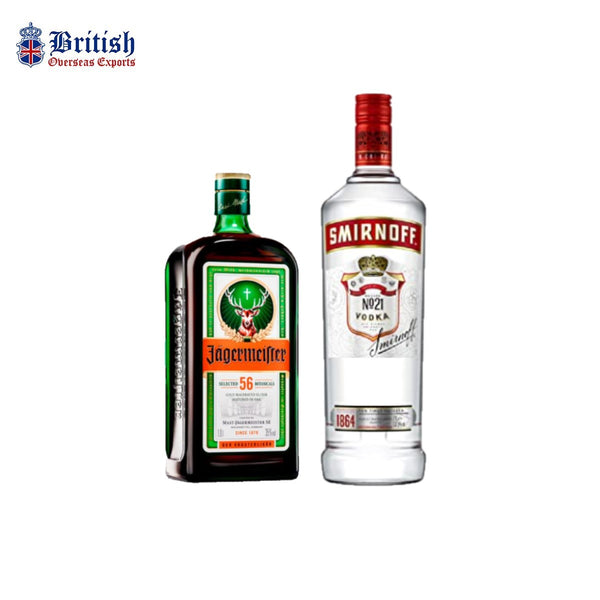 Jagertini Cocktail Bundle
Description:
We're taking the classic Martini and replacing the gin with Jagermeister.  A 50:50 mix of Jagermeister and Smirnoff vodka.  Perfect for the people who want an aromatic and flavour rich cocktail, but thought that a traditional Martini was just a bit too dry.
Right here in this bundle, we have a full-sized bottle of Jagermeister and a full-sized bottle of Smirnoff vodka to give you at least 28 servings of this Jagertini cocktail.
ABV: 35.0%, 40.0%
Colour: Black, Clear
Enjoy With:  In a cocktail
How to make the Liquor Town JagerTini
Combine 25ml vodka and 25ml Jager in a shaker with some ice and shake away.  The idea is to make the mixture cold.

Strain the drink into a martini glass – or, if you're a bit of a tramp like the Mayor is, a cup, mug or on occasions with limited glassware he has been known to drink out of his rice bowl.
For those of you lucky enough to actually have friends, and you need to make a lot of these – simply multiply the ingredients by the number of friends you have, and add one for yourself.  3 friends?  That means you need 3 + 1 (for yourself) = 4 times the ingredients.
Jagermeister is the famous German herbal liqueur known the world over and popular as in a variety of shooters and cocktails.
Smirnoff Vodka is claimed to be the world's best selling vodka and the number one premium spirit brand in the world.  It's produced in several locations around the world, including the UK and the USA to a recipe and production method that goes back to early 19th century Moscow. So how much for this two bottle bundle?
The total separate selling price on this would be $ 352.50 HKD. As a bundle, you can get both at only at $ 317.25 HKD.